30 November 04
+ 0 - 0 | § ¶Whoops
Turns out I was wrong about that LEGO Lunar Lander being a new set, according to
collectSPACE
. Turns out the line has been discontinued, unfortunately. Still, you gotta check out the set linked to from the link above.
+ 0 - 0 | § ¶Picture Of The Day

Saturn, its rings, and Mimas. Courtesy NASA, natch.
29 November 04
+ 0 - 0 | § ¶Go/No Go

Looking for the finest in space-related DVDs? Be sure to check out the
"Go/No Go" series of reviews
at collectSPACE.
+ 0 - 0 | § ¶Lunar LEGO Lander
Unbeknownst to me until yesterday, LEGO added another space set to their Discovery line, the
Lunar Lander
, the first in the series to be of sufficiently large scale to include minfig astronauts.
+ 0 - 0 | § ¶Today In History
On this date in 1961, Enos became the first chimp to orbit the Earth during the MA-5 Mercury flight.
+ 0 - 0 | § ¶The Da Vinci Craft
The Edmonton Journal has an update on
erstwhile X Prize contender The Da Vinci Project
, now the Golden Palace Space Program:
But the rocket won't be launched from Kindersley, Sask., until early next year. And when it is, it won't be carrying pilot and project founder Brian Feeney.
The Toronto-based team, which at one time was a contender for the $10-million US X-Prize for the first private spacecraft to reach suborbital space, now plans to do at least one unmanned test flight first.
Feeney ... hopes to do a test launch by the end of January, then rocket into space himself sometime in the spring.
And here's just another level of classiness that the project's online casino funding brings:
GoldenPalace.com recently bought a 10-year-old grilled cheese sandwich said to have an image of the Virgin Mary on it, raising speculation that too will fly into space.
+ 0 - 0 | § ¶Soyuz Countdown
From The Washington Times:
NASA and the nations involved in the International Space Station project will run out of emergency rescue craft within 18 months and have not decided what to do after April 2006, when the final Russian Soyuz spacecraft leaves the station and returns to Earth.
Soyuz, the three-person lifeboat for the crews if a fire, serious illness or other disaster occurs, soon ends its production run under the current international agreement, and a cash-strapped Russia wants compensation for building more of the spacecraft after 2006.
(That's the full text of the article, btw, so follow the link only if you want.)
+ 0 - 0 | § ¶Going For A Soyuz Spin
Expedition 10 this morning
went for a quick flight in their Soyuz
, moving it to a different docking port in preparation for an upcoming space walk.
+ 0 - 0 | § ¶Watching SNG
Marshall got some attention from NASA Watch this weekend, in two pieces, one
criticizing Science@NASA for not linking to the Vision.
(Cowing is insistent for some reason that
every
NASA page should link to the Vision--the version of the article that is online today has been changed from yesterday's, in which he wrote that Marshall was "thumbing its nose at the Vision" because SNG didn't link to it.)
In a separate article (orginally part of the same article, but later spun out), he
goes after Station tracking Web sites
.
26 November 04
+ 0 - 0 | § ¶To The Moon And Back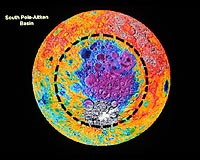 Take
this story from India, via SpaceDaily
for what it's worth, but if true, it's kinda cool.
The United States could launch a mission in 2010 that would land two stationary robots on the moon to collect rock samples before returning to earth, a US scientist said here Thursday.
I'm hoping we can get rovers on the Moon before too terribly long (i.e. before we send people back), but a sample return mission is pretty cool too.
+ 0 - 0 | § ¶Astros Online
Since I haven't posted about collectSPACE in a couple of days, I thought I'd share this link to
collectSPACE's guide to astronaut Web sites.
Cool stuff.
+ 0 - 0 | § ¶Space Genesis
The
space hotel is another step closer to reality
now that the FAA has given Bigelow Aerospace approval to launch its inflatable technology demonstrator Genesis modules into space. A first launch is planned for about a year from now.
25 November 04
+ 0 - 0 | § ¶Meteorite Photo
Lain sent me this
story that's kinda interesting:
NORTHERN Territory scientists were last night studying what could be the first photograph of a meteorite hitting Earth.
The chances of an impact being captured on film are millions to one.
"If this is true, it's one of the most remarkable pictures ever taken," astronomy tutor Geoff Carr said yesterday.
24 November 04
+ 0 - 0 | § ¶Going Back To Alpha
Cosmonaut
Sergei Krikalev will become the first person to serve two increments on the International Space Station
next year when he returns to ISS as a member of the Expedition 11 crew, along with NASA astronaut
John Phillips
, a veteran of the STS-100 mission.
Krikalev
, possibly the most historic modern cosmonaut, lived on ISS for 4 1/2 months as part of the first crew to occupy it. Krikalev was the first cosmonaut to fly on the Shuttle in 1994 on the STS-60 (along with Huntsville High School alumna Jan Davis, now of MSFC). His previous ISS experience also includes serving as a crew member of STS-88, the first Station assembly mission, which mated the first two modules.
Before his international mission experience, Krikalev served two increments on Mir (meaning that Expedition 11 will be his
fourth
long-duration mission). The second was notable for the fact that Krikalev was launched from the Soviet Union and returned to Earth in Kazakhstan, the
USSR having collapsed in his absence
, earning Krikalev notariety as "The Last Soviet Citizen." In fact, his mission was extended when a rotation flight was cancelled during the coup.
Krikalev currently is around number four on the total duration record chart, with 625 days in space under his belt so far. His 6-month stay should bring him to the top of the chart, exceeding Sergei Avdeyev's current 748-day record.
Krikalev will also enter the relatively exclusive six-flight club, becoming the first non-NASA spacefarer to do so. (The current record for total number of flights is seven, held by Franklin Chang-Diaz and Jerry Ross.)
I will admit, though, that I found this news rather surprising, having assumed that the next ISS crew would include Bill McArthur, who had been scheduled for Expedition 9 before suffering an undisclosed temporary health problem, and who served as the back-up commander for Expedition 10.
23 November 04
+ 0 - 0 | § ¶Your Wired Will Go On
For those who haven't seen it, this month's issue of WIRED magazine is guest-edited by James Cameron, and is centered around the theme of exploration, and includes articles by or about Buzz Aldrin, Sean O'Keefe, Don Pettit, Burt Rutan, Kim Stanley Robinson, among many others.
For more details, check out
collectSPACE
.
+ 0 - 0 | § ¶After The Prize
Cosmic Log has a brief piece on the
post-X-Prize private space race
.
+ 0 - 0 | § ¶That's No Moon!

The picture above is of Skif, a Soviet orbital laser battle station, mounted to an Energia booster. More pictures, and a little more information, can be found at MilitaryPhotos.net.
22 November 04
+ 0 - 0 | § ¶Apollo 1 Fire
One of the cooler aspects of
collectSPACE
(a cool Web site I may have mentioned before) is the incredible wealth of information its members bring. Check out, for example, this
discussion of the Apollo 1 fire
, including first-hand accounts.
+ 0 - 0 | § ¶Money For The Moon!
The Moon got a giant leap closer Saturday, when
Congress voted to fully fund NASA's FY'05 budget request
of $16.2 billion.
Also, on a related note, the
House passed H.R. 5382
, which paves the way for regulation of suborbital space tourism. The bill now moves on to the Senate.
+ 0 - 0 | § ¶Various And Sundry
Bits and pieces of space news not worth their own full posts:
+ 0 - 0 | § ¶Two New Crew
Astronauts
Lisa Nowak and Stephanie Wilson have been added to the STS-121 mission
currently scheduled for a NET July 10 launch date, the second mission after RTF.
This is of particular interest since it means that the flight will not be used for ISS crew exchange, as had earlier been mentioned as a possibility.
Before the loss of Columbia, STS-114, which will be the Return To Flight mission, had originally been manifested as a crew rotation mission, bringing home Expedition 6 and carrying a three-person Expedition 7 crew to the Station. When it was re-manifested as the RTF mission, the three seats that would have been needed for crew rotation were filled by additional Shuttle crew members with the explanation that they were needed for the additional duties that would be carried out relating to RTF.
Another mission, STS-121, was added to the schedule between 114 and STS-115, with a four-person primary crew, meaning that it could take on the crew rotation duties STS-114 was dropping. Now, obviously, that's not going to happen.
It could simply be a matter of scheduling. Under the current schedule, STS-121 will visit the Station roughly 3 months after Expedition 11 begins its tenure there; so swapping the crew then would make for a rather short increment for that crew. (Also, the fact that 121 now has a six-person crew rather than seven means that it could still have one ISS crewmember added to its roster, restoring the ISS to its pre-107 three-person complement.)
However, since there have been unconfirmed rumors that NASA will completely demanifest crew rotation from Shuttle, it's a situation worth watching.
20 November 04
+ 0 - 0 | § ¶Today In History
On this date 6 years ago, assembly of the International Space Station began with the launch of the first component, the Russian Zarya module.
+ 0 - 0 | § ¶Swiftly Into Space
Barring any additional scrubs, the
Swift observatory will launch today at 11:10 a.m. CST
. Once its science mission begins, Swift will detect gamma ray bursts.
19 November 04
+ 0 - 0 | § ¶Man On The Moon
For those ATW readers in the Memphis area, you can get a chance to see a real live Moonwalker when Apollo 14 LMP Edgar Mitchell speaks in Germantown on Jan. 23. Details at (yep)
collectSPACE
.
+ 0 - 0 | § ¶Tunes For Titan
Per SpaceDaily:
When the Cassini-Huygens spacecraft completes its journey to Saturn's moon Titan in January, its probe will carry out many missions -- among them, to boldly blast rock 'n' roll music where none has been heard before.
The US-European vessel, run by NASA, the European Space Agency (ESA) and the Italian space agency, is carrying a 14-minute CD loaded with music from two little-known French artists who will have the honour of having their tracks broadcast to any alien ears that may be listening.
Earthlings on the other hand will be able to bop along to the tunes on the Internet site www.music2titan.com from December 21 as they follow the mission online.
18 November 04
+ 0 - 0 | § ¶A Year In Space

ATW not enough to meet your hankering for a daily dose of space? That's just sad.
But, there's help for people like you: Countdown Creations is sponsoring "The Year In Space" desk calendar, with weekly space photos and daily entries on space history and events.
Details are at--suprise!--
collectSPACE
.
+ 0 - 0 | § ¶Budget Battle Nears Conclusion
Per Space Politics:
Space News [subscription required] reported late Wednesday that House and Senate budget negotiators have agreed to give NASA $15.9 billion in FY2005. That amount is less than the $16.2 billion that President Bush originally requested, as well as the $16.4 billion the Senate Appropriations Committee proposed (a figure that includes $800 million in emergency funding), but more than the $15.1 billion in the House version of the budget. ...
The Houston Chronicle reported Thursday that the Office of Management and Budget has issued another veto threat, claiming that the President could veto the entire omnibus budget bill if it has "anything close" to the House's $15.1 billion NASA proposal.
+ 0 - 0 | § ¶Second Chance Leonids
There will be another peak of the
Leonids meteor shower
at 3 a.m. CST in the morning, though, again, it's unlikely there will be more than a dozen meteors per hour (though those that there are should leave long-lasting streaks).
+ 0 - 0 | § ¶This Week At NE
This week at
NASAexplores
, I've got an article about how the Space Station team has learned to optimize the function of the current 11A configuration of the Station while the Shuttle fleet has been grounded, and Maggie's got one about what's involved in getting a commercial jet ready for flight.
17 November 04
+ 0 - 0 | § ¶Weather Report
I really should try to make a little money as a freelance metereologist, 'cause by now I can predict with uncanny accuracy that any night that I wake up in the middle of the night to go outside to try and see some celestial event like a meteor shower, it will be completely overcast.
+ 0 - 0 | § ¶The Source
So I needed to know today for an article I'm working on whether a line in the movie version of The Right Stuff was in the book or not.
So where do I turn?
collectSPACE
, of course.
Another helpful (and more informed) forum member had an answer for me as soon as I checked back.
+ 0 - 0 | § ¶Hyper Active
Yesterday's final flight of the X-43A was successful, and initial data indicate that the
Hyper-X reached a speed of around Mach 10
.
+ 0 - 0 | § ¶More Scrubs

The
launch of NASA's Swift Observatory has been delayed
due to problems with the Delta 2 launch vehicle's abort system. The flight could be rescheduled for tomorrow.
16 November 04
+ 0 - 0 | § ¶Fact Or Fiction
Take the
"Science Fiction or Science Fact?" quiz
, and see if you can score a whopping 10 out of 10, like me!
+ 0 - 0 | § ¶Lunar IMAX

From collectSPACE:
The Kansas Cosmosphere and Space Center will once again be teaming with Tom Hanks to bring space history to the big screen. Currently titled Magnificent Desolation 3D: Walking on the Moon, the film is being produced by IMAX Corporation and Tom Hanks and Gary Goeztman of Playtone, and is scheduled for release in Fall 2005.
+ 0 - 0 | § ¶Today In History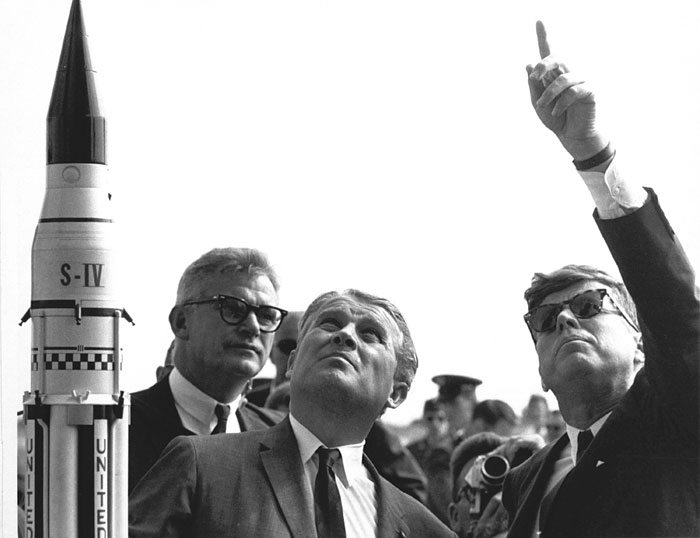 One this date, Wernher von Braun gave President Kennedy a tour of the Saturn launch facilities at Kennedy Space Center, though I'm pretty sure the picture was taken in 1963, and not in 1964, as this site claims.
Also on this date 31 years ago, the final Skylab crew began their record-setting 84-day mission on the space station.
Also on Nov. 16, my mom and my co-worker JoCasta were born (though not the same year). Happy birthday to them both.
+ 0 - 0 | § ¶Space Station Day
From a Huntsville Times article about
the conference I attended this weekend
:
It's a safe bet that in the future space explorers may not celebrate Columbus Day, but they will have a holiday to commemorate humanity's presence in space, said Dr. Bill Carswell of Marshall Space Flight Center.
"It'll be 'Space Station Day' they celebrate in future years," ...
He said NASA and others in the international space community hope the date for celebration will be Nov. 2, to commemorate the day in 2000 the first crew occupied the International Space Station. Carswell said the NASA goal is to keep the station with a permanent, rotating crew for at least 15 to 20 years, "but that may extend out ... and there will be other crews on" other stations or bases.
"The ultimate goal, which is very lofty, is to never go without a human presence in space again," he said.
+ 0 - 0 | § ¶X-43A Update

The
X-43A didn't fly yesterday
. Maybe today.
There was an instrumentation problem yesterday that wasn't worked out until too late to meet the lift-off time. Today's launch window begins at 4 p.m. CST.
15 November 04
+ 0 - 0 | § ¶collectSPACE
I'm sure many ATW readers are out there wondering, "What is this wonderful
collectSPACE
that David keeps prattling on about?" Well, why don't you go to the
About collectSPACE
page and find out?
+ 0 - 0 | § ¶Macrovision
TechNewsWorld has an interesting bit of commentary on what
what Boeing joining the Northrup Grumman bid means for the future of the Crew Exploration Vehicle
.
+ 0 - 0 | § ¶Today In History

On this date in 1988, the Soviet Space Shuttle program began (and ended) with the first and only launch of Buran.
+ 0 - 0 | § ¶Huntsville Rebuts
I posted an article last week from the Wall Street Journal about the German rocket team that came to Huntsville. Now, a local TV station has posted
a response to that story
.
+ 0 - 0 | § ¶Foale For The Future
In an awesome bit of news for the future of exploration, astronaut
Mike Foale has been named Deputy Associate Administrator for Exploration Operations
. Duties will include focusing operations activities to align with the Vision.
Having talked with Foale a couple of times, I have a really high opinion of his understanding of the issues that will be involved in long-duration exploration missions, and believe he'll really bring a lot to the job.
+ 0 - 0 | § ¶Getting There Is Half The Fun
Europe's first lunar orbiter,
SMART-1, will reach the Moon today
, after having taken over 13 months to make the 4 day trip.
Among its mission goals upon arrival is to scan for signs of frozen water.
+ 0 - 0 | § ¶Modest Leonids
For those willing to get up early enough to see it, there will be a
relatively lackluster meteor shower this week
.
+ 0 - 0 | § ¶Hyper-Time

The final flight of NASA's X-43A Hyper-X scramjet will take place today starting at about 4 p.m. CST. The
plane will attempt to reach about Mach 10
, blowing away the speed record it set in March.
13 November 04
+ 0 - 0 | § ¶Today In History
On this date in 1971: Mariner 9 becomes the first spacecraft to enter orbit around another planet, Mars.
This bit of space history (like many others on this site) stolen from
collectSPACE
, one of the best danged space sites on the internet. Go there now!
+ 0 - 0 | § ¶Rocket Plant
So as I mentioned the other day, I've been attending the NSS HAL5's Exploring and Privateering Space conference, with varying degrees of enjoyment.
I won't bore you with the details, except to mention that so far the far-and-away highlight has been touring Boeing's rocket plant in Decature where Delta IV and II rockets are manufactured. I've driven past the plant a few times, always really wishing I could go inside, so it was a huge privelege to actually get to yesterday.
As one might guess, rocket assembly (particularly when there's so little demand) is pretty gradual work, so it's not like we saw an assembly line stamping out parts. To be honest, we saw little to no actual construction work.
That said, it was still extremely cool to walk through the plant and see these huge rockets in various phases of construction. As I've mentioned every chance I get, there's a Saturn rocket outside the window of the building where I work, so it was kinda funny how much touring the facility gave me a sense of scale of these things. The Delta IV CBC is huge, and that point was driven home time and time again, from walking the length of a nigh-finished one lying on its side, to seeing many of its also-large parts in construction, to seeing analogous parts of the also-large-but-dwarfed-by-comparison Delta II.
That said, I got unduly excited at one point when I thought I'd seen something even cooler than the stuff that was actually there. I'd never noticed previously how much the Boeing capsule design for the CEV (visible in the upper left hand corner of
this page
) resembles the piece of a Delta IV rocket between the bottom of the rocket body and the engine nozzle (visible on
this page
). When I saw that piece upside down in the factory, complete with holes that looked like a hatch and a window, I thought I was seeing a boilerplate for the next generation of spacecraft. Maybe some other time.
12 November 04
+ 0 - 0 | § ¶This Week At NE
This week at
NASAexplores
, I've got an article about the ISS EarthKAM program, which allows school students to take pictures of the Earth from the Space Station, and Maggie's got one about robot ants.
10 November 04
+ 0 - 0 | § ¶Hey, Wernher!
Huntsville made the front page of the Wall Street Journal today
.
HUNTSVILLE, Ala. -- When the moon was full over Adolf Hitler's Germany, his rocket scientists would look up and dream about sending a man there. Today, some of those same scientists stand in this northern Alabama town, look skyward and think, "We did it."
+ 0 - 0 | § ¶To The Moon!
Looking for an unique gift for that space or history buff on your list? You can get a signed copy of Moonwalker Dave Scott's new book Two Sides Of The Moon (co-written with cosmonaut Alexei Leonov) from, yep,
collectSPACE
. It's a great opportunity to give (or get for yourself) a piece of history.
(And this isn't a subtle plea for a gift--I've got my copy already.)
+ 0 - 0 | § ¶Birthday Sale
To celebrate Carl Sagan's birthday, The Planetary Society announced a
launch date of 1 March for the Cosmos 1
solar sail technology demonstrator spacecraft.
+ 0 - 0 | § ¶Rings Soundtrack
So it turns out
Saturn's rings make music
.
+ 0 - 0 | § ¶DART Update
Space.ref has an article today about the
latest delays in the DART launch
, which appear to be the most significant delays to date: The article alleges that Orbital which built and was to launch the spacecraft withheld concerns about the launch vehicle.
+ 0 - 0 | § ¶Mining The Moon
Space.com has an article on
preparations to use the Moon as a stepping stone to Mars
.
09 November 04
This blog has had a link to
collectSPACE
since not long after its inception, and is happy to promote
collectSPACE
whenever possible.
So, I'd be glad to participate in
collectSPACE
's new Challenge: Campaign! contest to promote the site even if there weren't prizes available.
But, since there are, don't be surprised if you see the word
collectSPACE
on my site alot between now and December 9.
Of course, you should all go immediately and visit
collectSPACE
, not just to help me win a prize, but for all the exciting things you can learn at
collectSPACE
.
+ 0 - 0 | § ¶Today In History
On this date in 1967, the race to reach the Moon by the end of the decade took a huge step forward with the launch of the unmanned Apollo 4 mission, the first flight of the Saturn V.
Rather than an incremental step-by-step flight test program favored by rocket designer Wernher von Braun, Manned Spaceflight head George Mueller ordered an all-up test; with the entire Saturn V stack to be tested at once.
If it worked, it would cut the lengthy testing process for the immensely powerful launch vehicle down to a single launch. If it failed, however, it would have been disastrous. The entire Apollo timeline, NASA's ability to meet Kennedy's mandate, would depend on the success of a single launch.
And, of course, the Saturn did its job.
+ 0 - 0 | § ¶Sail Away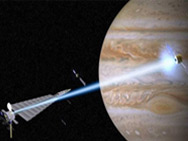 In yet another story about
futuristic space propulsion likely to freak out Tutor
(er...
Mr.
Tutor), ABC News talks about various versions of sail-based spacecraft, including Cosmos 1, expected to launch in January.
+ 0 - 0 | § ¶Can You Hear Me Now?
OK, yet another reason why the agency I work for is cooler than where you work:
Plenty of companies are involved in setting up cell phone service. And putting together a cell phone coverage map is hardly an "as only NASA can" task.
But there probably aren't many other organizations that have requesitioned a
cell phone service coverage map of Mars
.
Why? 'Cause it's NASA, fool!
Um... also because it could help provide a better communications network for rovers on the surface.
+ 0 - 0 | § ¶Mad Cat
Florida Today has an article about the
Vomit Comet cat video
that has recently been getting play on the internet now that the KC-135 has been retired. The article tells the story behind the 19-year-old clip, but also features links to the video.
+ 0 - 0 | § ¶Science!
Per SpaceRef:
The first medical research paper submitted from the International Space Station (ISS) was published online Monday by the journal Radiology.
+ 0 - 0 | § ¶Not Your Father's Soyuz

The updated-for-a-new-millenium
Soyuz 2 rocket did launch successfully yesterday
.
NASA DART demonstrator, which was scheduled for launch today, on the other hand,
has been delayed again
.
08 November 04
+ 0 - 0 | § ¶DART Update
DART may launch tomorrow.
+ 0 - 0 | § ¶Worlds Apart
The picture at right is of
a piece of metal from the World Trade Center that is now on Mars
, mounted to the rovers as a tribute to those who lost their lives.
+ 0 - 0 | § ¶With The Times
From The Huntsville Times:
With President Bush reclaiming the White House, expect a renewed push by NASA to complete a scaled-down International Space Station, retire the space shuttle and develop plans for a return to the moon, NASA experts say. ...
"Whatever form these programs take, making them last throughout multiple budget cycles and across several elections is the way to survive. ... NASA has a better chance of getting a plan (moving) that will get this country out of low Earth orbit now," McCurdy said.
+ 0 - 0 | § ¶The Next Leap
Bigelow Aerospace has announced the
rules for the $50 million America's Space Prize
, and--wow. They make the X Prize competition look downright unambitious by comparison.
The first long pole in the tent: The prize has to be won by 10 Jan. 2010, which is not as far into the future as it used to be. Developing an orbital spacecraft in about 5 years is a pretty substantial challenge. I'm not going to say it can't be done, but it's definitely going to be a reach.
The second long pole: While, as with the X Prize, passenger-equivalents are allowed for the five seats on the first flight, the second flight (within 60 days of the first) must carry actual people. Couple this with the fact (another long pole) that contestants must be based in the U.S., and you encounter a situation in which it could actually be
illegal
to win the prize; currently, there are no regulations allowing commercial spacecrafts to carry passengers--one of the major reasons SpaceShipOne's X2 flight was pilot-only. Unless the laws are changed, it'd be tough to actually meet the Space Prize requirements.
Now, all that said, if it works--again, wow. If the $50 million is successful in inspiring someone to win it, it'll speed up the development of the private space tourism industry by a huge amount.
But I'm not getting my hopes up.
+ 0 - 0 | § ¶Next Generation
Russia was supposed to have
launched the next-generation Soyuz-2 rocket today
, but I can't confirm yet whether it happened.
05 November 04
+ 0 - 0 | § ¶New Opportunity
Per Space.com:
As NASA's Mars rovers keep rolling past all expectations of their useful lives, scientists have a happy mystery: For some reason one of the vehicles has actually gained power recently.
Also, on a slightly related note, NASA Watch's Keith Cowing thinks he's found
a Martian fossil
. Putting him firmly in
Enterprise Mission territory
. Not that either is necessarily wrong, of course.
04 November 04
+ 0 - 0 | § ¶Another Dave Space Rant
I posted this on the forums at the excellent, excellent
collectSPACE
site, but thought I'd share it here as well, about what the election means for space exploration and for the space community.
(more)
+ 0 - 0 | § ¶One Giant Leap?
Per Florida Today:
President Bush's re-election will jump-start his plan to send astronauts back to the moon, transforming a new vision for space exploration into serious marching orders, analysts said Wednesday.
"It's certainly in place," said Howard McCurdy, ... the author of several books on the history and evolution of NASA.
"And anything in this city that is in place for four years generally sinks a deep enough foundation that nobody can pull it out."
+ 0 - 0 | § ¶Picture Of The Day

A rare image shows the shadows of the Jovian moons on the surface of Jupiter. Io can be seen as a white dot near the center of the planet, and its shadow a little to its left. Up and right from Io is Ganymede, visible as a larger blue dot, and its shadow can be seen on the very left edge of Jupiter. The shadow in the upper right is that of Callisto, though the moon can't be seen in the image. Courtesy Space.com
+ 0 - 0 | § ¶Lost Dog
Only days after yet another report confirmed that the biggest problem with the failed European Beagle-2 Mars lander was its entire fundamental "Mars on the cheap" concept, Colin Pillinger has announced that he wants to try it again, this time
sending two more Beagle-type landers to Mars in 2009
. He plans to make a presentation to try and convince ESA to give him a ride to drop more litter on Mars, though he has also mentioned that NASA, which he has criticized over the years for its wasteful "do the job right" philosophy of Mars landers, might also be a potential chauffer for his landers.
+ 0 - 0 | § ¶This Week At NE
This week at
NASAexplores
, I've got an article explaining NASA's Aeronautics Research Mission Directorate, and Maggie has one about the Space Operations Mission Directorate.
03 November 04
+ 0 - 0 | § ¶Today In History
Forty-seven years ago today, the first living creature in space, space-dog Laika, was launched to a horrible, horrible space death by the Soviet Union aboard Sputnik 2.
+ 0 - 0 | § ¶Space Races
Space Politics has
updates on election outcomes that could affect space policy
.
+ 0 - 0 | § ¶Launch Dates Update
I've updated the Aerospace Events box in the left sidebar with information from the latest
ISS Flight Program
schedule. All dates are planning dates only, though, so don't book any travel plans around them.
+ 0 - 0 | § ¶Beam Me Up!
So on the cool side, the
Air Force is studying the possibility of teleportation
, but on the down side, the study finds that the best potential route for accomplishing teleportation is "psychic: the conveyance of persons or inanimate objects by psychic means."
The study evaluated quantum entanglement, which I personally would say is the most promising, but found it to have less potential than
psychic teleportation
. Sure.
+ 0 - 0 | § ¶People's Space Agency
Per SpaceDaily:
China can expect to see the first commercial space flights in 20 years, the head of the country's space program was quoted as saying by state media Wednesday.
Chinese people "are expected to realize their dream of space travel in 20 years," Yuan Jiajun, chief commander of the the program and president of the China Academy of Space Technology, said Tuesday at a symposium.
02 November 04
+ 0 - 0 | § ¶Venus, By Jove!
If you're the sort of person willing to get up early for this sort of stuff,
Venus and Jupiter will appear extremely close together
before sunrise Thursday.
+ 0 - 0 | § ¶Today In History
Today marks four years of continuous human presence aboard the International Space Station, after the Expedition One crew arrived at ISS.
01 November 04
+ 0 - 0 | § ¶The Future Of Shuttle
Space.com has a good article bringing together the
bits and pieces of rumor and speculation floating around about the future of Shuttle
.
Of course, we all know that the Shuttle is supposed to stop flying in 2010, after completing the Space Station.
Unless, of course, it doesn't:
Few expect NASA to be ready to retire the shuttle any earlier than 2012 given the vagaries of space flight and the shuttle fleet's historical flight record. ...
"I haven't spoken with anybody who believes the space shuttle program will wind down in 2010," Dan Murphy, president and chief executive officer of (ATK Thiokol), told analysts. "NASA is adhering to the program as it is. All outside experts ... believe the existing program has to fly through 2014."
Of course, in addition to the possibility that the Shuttle could be flying long after 2010, there's also been talk recently that it could make fewer flights. There's been finger-pointing from both sides of the election that the other side would retire the Shuttle much sooner, and a study has been conducted about the feasability of doing so. (It's important here to note that NASA conducts studies about
everything
, whether they have any intention of doing it or not.)
The Planetary Society published a report in July that advocates limiting the space shuttle to launching the remaining U.S. elements -- a configuration known as U.S. Core Complete -- and relying on other launchers to get NASA's European and Japanese partners' modules into place. Such an approach, the report says, could permit NASA to retire the shuttle after flying as few as six to eight missions.
Actually, that's the one shortcoming of this article, is it doesn't cover the
talk of a shorter mission list
thoroughly enough--though I personally believe it would be easy to take that discussion too seriously. Right now, it's hard to imagine cutting the schedule from almost 30 missions to about 10. But, there's still a long time left to go, and things could change drastically tomorrow, much less 6 years down the road.
+ 0 - 0 | § ¶Weightless No More
NASA's
"Weightless Wonder" KC-135 made its final flight Friday
. The plane, affectionately known by many as the Vomit Comet, will be replaced next year by a C-9 aircraft.
Yaniac proudly told those who attended a post-flight briefing that over the years, the plane's crew had cleaned up at least 285 gallons of vomit.
+ 0 - 0 | § ¶Picture Of The Day

The above image of Spirit's sundial is the 50,000th image sent back from Mars by the two MER rovers. Courtesy NASA.
+ 0 - 0 | § ¶RTF Update
This blog reported this news back when it was still in planning, but
an NET May 12 launch date has been officially set for STS-114
, with the launch window extending until June 3. While, of course, the Shuttle won't fly then if it's not ready, it's sounding like everything could well be go for that window.