30 September 04
+ 0 - 0 | § ¶A Better Future
Why SpaceDev's Jim Benson believes the Rutan/Branson take on space tourism isn't what the industry needs, and
how he plans to do it better with Dream Chaser
.
+ 0 - 0 | § ¶Isn't It Ironic?
Richard Branson's
Virgin Group will be divesting itself of its ISP division in order to focus on Virgin Galactic
.
I found this bit kinda amusing, though:
The Internet service provider, a joint venture that launched in 1996 with Branson wearing a silver space suit as he burst through a polystyrene wall, will retain the Virgin name.
+ 0 - 0 | § ¶Expedition 10 Update
A
launch date of October 14 for Expedition 10
is expected to be finalized tomorrow.
+ 0 - 0 | § ¶Beyond The Blue
It's been in the news that
IBM now has the fastest supercomputer in the world
(reg.req.) at 36.1 teraflops, but that's likely to change hands soon:
There's a new contender on the horizon, though, a NASA system called Columbia that SGI is building with 10,240 Intel Itanium processors. Intel President Paul Otellini said in September the system will be finished in 2004 and will have a speed of 60 teraflops.
And, of course, the Mac-powered supercomputer at Virginia Tech, while not a contender for the Number One spot, will still be high on the list with its newest iteration.
+ 0 - 0 | § ¶Dawn Of The Good Jupiters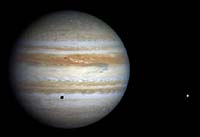 To date, almost all of the extrasolar planets that have been discovered are Jupiter-equivalents or larger, but almost all have been in orbits very different from that of Jupiter; either super-close to their stars or in comet-style oval orbits. Both of those would be less hospitable to having an Earth-like presence in the same stellar system.
So why are there no Jupiters like our Jupiter out there?
As it turns out, the reason is that such planets, while relatively easy (compared to an Earth-like planet in an Earth-like orbit) to detect, take a long time to confirm due to their much-longer orbit. But, enough time has past since planet-hunting began in earnest that more Jupiter-type planets in Jupiter-type orbits should start be announced soon. Those worlds, in turn, will mark promising targets for the next generation of planet-hunting tools, which make the discovery of terrestrial worlds easier.
+ 0 - 0 | § ¶Insanely Great Spaceflight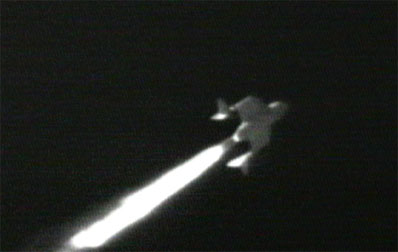 This story about the
SpaceShipOne flight yesterday is pretty interesting
, but I thought I'd share this bit towards the end.
Guess which company is the best analogy for the paradigm-shifting coolness of the beginning of the era of personal spaceflight?
Yep:
"We have finally, after 40 years of waiting, the beginning of the personal spaceflight revolution," said Peter Diamandis, chairman and founder of the X Prize Foundation. "Just the same way that we had the personal computer revolution coming out of (Apple computer co-founders Steve) Jobs and (Steve) Wozniak, we really do have the personal spaceflight revolution. ...
"I've been asked so many times what difference does this make. Spaceflight has been around for 40 years. Why is it different now? Well, it's different now because these are finally spaceships that you can personally own and tickets you can personally buy just the way the Apple computer was different because it was a computer you could own."
Rutan agreed, saying he believed "the aerospace primes" - Boeing, Lockheed Martin and other major contractors - "will be building low-cost human carrying spaceships, they just don't know that yet."
"I think it's very, very similar to IBM in 1975 before Jobs and Wozniak went to work," Rutan said. "IBM didn't know that they'd be building $700 computers. But they did, they had to. And I think we are likely going to see the same thing happen with rocketry."
Current Delta, Atlas and Titan rockets build by Boeing and Lockheed Martin are similar, Rutan said, to "those big old dinosaur mainframes that IBM was making a few of and saying there's not much market here and why would a person want a computer? I really think that that is going to happen with striking parallel."
29 September 04
+ 0 - 0 | § ¶Congratulations!

One down, one to go!
Kudos to Mike Melvill and Scaled.
Photo from CNN.
+ 0 - 0 | § ¶Today In History
Sixteen years ago today, NASA accomplished the goal that the agency is working toward today: Return to Flight. Over 2 1/2 years after the loss of the Space Shuttle Challenger on its 51-L mission, the Space Shuttle Discovery launched on the STS-26 mission. Discovery will once again handle RTF duties next year.
+ 0 - 0 | § ¶Everyone Complains About The Weather
You know, despite being kinda silly,
this is flattering, in a weird sort of way
. I wonder how many other organizations believe would assume have this sort of power:
At the end of the commission's meeting, Aiken called on the National Aeronautics and Space Administration to seek a way - short of using a nuclear bomb - of destroying hurricanes when they form in the Atlantic and before they can menace Florida. ...
Aiken replied that NASA obviously had not been trying hard enough and that if at first you don't succeed, try, try again.
"We are like ducks in a shooting gallery," she said. "Mother Nature is a terrorist."
+ 0 - 0 | § ¶Technology Of The Future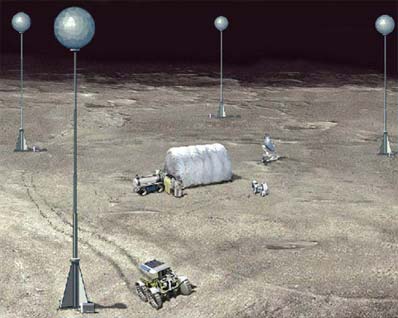 NASA has selected
12 proposals for technologies for space exploration
. They include such things as a lunar-based telescope, imrpoved radiation shielding, a lunar space elevator, and "Redesigning Living Organisms to Survive on Mars."
+ 0 - 0 | § ¶Mach 10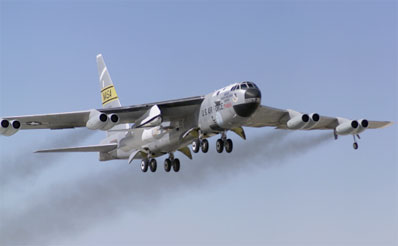 Monday's
captive-carry flight of the X-43A Hyper-X scramjet was successful
, paving the way for a record-setting Mach 10 flight of the final X-43A in November.
28 September 04
+ 0 - 0 | § ¶RTF Update
From The Orlando Sentinel
(via The Kansas City Star):
Top National Aeronautics and Space Administration officials will meet Friday to begin formally considering the practical effect of the lost time and whether it makes an already tight schedule impossible to stick to. ...
Although KSC lost only two workdays to Jeanne and one to Charley, Frances cost the center seven workdays. And that's not counting the time and effort to button down for a storm and to ramp back up after the danger passes. All told, Kennedy said 16 days - more than three workweeks - were lost.
+ 0 - 0 | § ¶T -1 Day
SpaceShipOne will make its first X Prize-attempt flight tomorrow
.
Live Webcast coverage begins at 8 a.m. CDT tomorrow.
Time is also running out to have your name flown on the flight by joining the X Prize Foundation for just $20.
+ 0 - 0 | § ¶Happy Anniversary!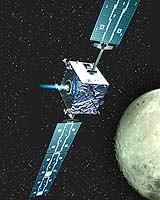 Yesterday marked a major anniversary for the European SMART-1 probe, which has been
on its way to the Moon for a year now
. The probe should arrive in lunar orbit in mid-November, completing the 4 1/2-day trip in only 13 1/2 months.
+ 0 - 0 | § ¶Expedition 10 Update
The
launch of Expedition 10 has been delayed again
due to further technical problems with the Soyuz launch vehicle that is to carry them to ISS.
+ 0 - 0 | § ¶That's The Spirit

In an impressive bit of imaging, the Mars Global Surveyor has taken
pictures from orbit that show the Spirit rover
and even the tracks the rover has left in the Martian regolith on its way to Bonneville Crater.
+ 0 - 0 | § ¶And, Admiral...
I missed this yesterday in the excitement of the announcement of the new Virgin spaceline, but this is rather cool:
The world's first passenger spacecraft will almost certainly be named Enterprise.
+ 0 - 0 | § ¶There's A Bathroom On The Right

Go outside tonight, and the next few nights, and you'll see a Harvest Moon. Tomorrow, there will even be a full Harvest Moon. For five blog points, how is a Harvest Moon different from the "normal" Moon? Hint: Your answer should not include the words "Neil Young."
27 September 04
+ 0 - 0 | § ¶T -2 Days
The
X Prize competition could be over within a week
. Scaled Composites will make the first prize-attempt flight of SpaceShipOne Wednesday, and has scheduled what would be the prize-winning second flight one week from today.
+ 0 - 0 | § ¶Hurricane Update
Space.com has a few more details on
Jeanne's impact at KSC
.
+ 0 - 0 | § ¶Space: Virgin Territory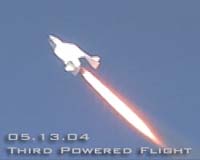 Per SpaceDaily:
British airline magnate Richard Branson announced a hugely ambitious plan Monday for the world's first commercial space flights, saying he would send "thousands" of fee-paying astronauts into orbit in the next five years. ...
Addressing reporters in central London, Branson said that the new firm -- Virgin Galactic -- would launch its maiden flight in only three years, and that he would be on the very first trip into space.
That said, despite the article's claim that Virgin Galactic will send people "into orbit," there's no mention of a spacecraft, other than the licensing agreement with Scaled and references to the suborbital SpaceShipOne.
Addendum:
VirginGalactic.com
Addendum:
OK, I'm sorry; I love Apple, I truly do; but Steve Jobs has some catching up to do on the coolness quotient.
Virgin also launched an online music service today.
"We've got a new online music service. Cheaper than other subscription services. It'll bridge our store and the internet.
"And one more thing:
"We're
gonna send thousands of people into space!
"
Now,
that's
just cool. Possibly even insanely great.
+ 0 - 0 | § ¶X-Squared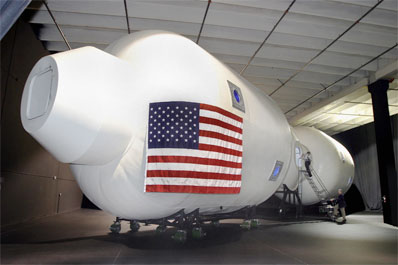 So it turns out that we may owe the future to a chain of cheap hotels.
Spaceflight Now has an article about
Bigelow Aerospace's efforts to develop inflatable space station modules
. Working with JSC, the company hopes to have a crew on an inflatable module by the end of the decade.
But, not content with stopping there, Bigelow is taking things a step further, trying to leverage the Budget Suites fortune toward the creation of commercial spacecraft to ferry passengers to his orbital facilities.
He's putting up half of what will be a $50 million prize for the development of a private orbital spacecraft.
While the work (and cost) involved in developing such a spacecraft probably exceeds the five-times-greater-than-subortibal factor by which the prize exceeds the X Prize, the America's Prize will probably have a greater built-in market, potentially servicing both public and private orbital facilities.
+ 0 - 0 | § ¶So Close...
This blog has said, repeatedly, to anyone that will listen and some who won't, that NASA needs to be in movie theaters. If every movie you go see can be preceded by a solicitation to join the military, why can't NASA use some big screen real estate? How incredibly cool would it have been to see some of NASA's mind-blowing mission animations in theatrical format? Put one of those before the right movie, and internet traffic will be beating down the agency's virtual door.
So how excited was I to see this headline at Spaceflight Now:
NASA is showing in a theater near you
Answer: More excited, it turns out, than I should have been.
Oh well.
26 September 04
+ 0 - 0 | § ¶X Prize Update
The beginning of the most exciting week in spaceflight history was to have been just days away, but now the Ansari X Prize is Scaled Composite's to lose.
The Da Vinci project's Wild Fire spacecraft had been scheduled to make its maiden spaceflight between SpaceShipOne's two prize-attempt flights, but now the
Wild Fire flight has been delayed
, and the new launch date has not yet been announced, meaning that the Prize now likely belongs to Scaled unless one of the SS1 flights is unsuccessful.
+ 0 - 0 | § ¶Hurricane Update
Per Florida Today:
CAPE CANAVERAL, Fla.- NASA's three space shuttles are just fine, but the already damaged Vehicle Assembly Building lost more of wall panels to Hurricane Jeanne overnight and this morning.

25 September 04
+ 0 - 0 | § ¶Keep On Trucking
Lain pointed this out to me a while back, and I've been forgetting to post it:
Apparently, not only did NASA's Sun-observation space probe crash:
But so did their Sun-observing truck:
+ 0 - 0 | § ¶Today In History
On this date 31 years ago, the SL-3/Skylab II crew of Alan Bean, Owen Garriott and Jack Lousma returned to Earth after spending nearly 60 days in space, more than twice the previous duration record.
24 September 04
+ 0 - 0 | § ¶Foaled Again
More links to stories from Foale's visit here Wednesday:
The Huntsville Times:
Keeping astronauts busy and using proper equipment may be the secret to squeezing science work out of the International Space Station with a small crew, astronaut Michael Foale said here Wednesday.
WAFF:
He holds the U.S. record for having spent the longest time in space and on Wednesday Michael Foale spent some time in Huntsville.
Decatur Daily:
NASA may have discovered its best spokesman and chief advocate Wednesday in the form of Mike Foale, commander of Expedition 8.
That last piece is particularly interesting (though I should note that, contrary to their report, Foale has 374
days
in space, not hours). I still believe that the person whom NASA should be putting before the public, even more than Foale, is Eileen Collins. I would love to see Foale in that role, as he's unbelievably brilliant, but doubt that he's adequately politic (which is not a criticism at all). Still, the article comes pretty close to capturing one of the more interesting things Foale had to say--that we should start making the most of the resources we already have.
+ 0 - 0 | § ¶Heavy, Dude
OK, this is a first--an article on SpaceDaily that not only seems pretty rational, but which I even agree makes some good points. The article makes the arguement that
a true heavy-lift launch vehicle is needed
and could even make economic sense. Unless I missed it, the article, interestingly, doesn't address the Vision at all, but obviously there would be huge potential benefits for exploration from the development of an HLLV.
+ 0 - 0 | § ¶Yep, Again

There was a noticeable sigh of relief when Kennedy Space Center (and other NASA centers) avoided damage from Hurricane Ivan right on the heels of KSC's hit from Francis. But, now,
KSC is under the gun again
, this time from Jeanne.
23 September 04
+ 0 - 0 | § ¶This Week At NE
This week at
NASAexplores
, I've got an article about the ultracool X-29, with its forward-swept wings. Also, Maggie's got a piece about how space research is forwarding ultrasound technology, and we've got a piece about an experiment that was left on the Moon during Apollo that's still increasing our knowledge of astrophysics.
+ 0 - 0 | § ¶Today In History
On this date in 1846, Johann Gottfried Galle discovered the planet Neptune. Also, 8 years ago today, astronaut Shannon Lucid (finally) left the Mir space station after setting spaceflight duration records for both NASA and women. She still holds the women's duration record, but the NASA record, of course, is now held by the Mike Foale.
+ 0 - 0 | § ¶Either/Or? Both!

Per SpaceDaily:
The next crew of the International Space Station (ISS) is to contribute to the Russian search for a vaccine against AIDS, Russian cosmonaut Salizhan Sharipov said on Thursday.
+ 0 - 0 | § ¶Back On Earth
The Decatur Daily has a story about
Mike Foale's presentation at Marshall yesterday
about his experiences on Expedition 8.
I did get to talk with Foale one-on-one for quite a while yesterday, and my high opinion of him rose even higher. He's a true gentleman, saying again that he had enjoyed our on-orbit earlier this year, which he apparently really did remember. That said, he just really
gets it
--someone whose opinions on spaceflight and its future I find just dead on. He said he wants to stay with NASA and move into training astronauts for exploration missions, which would be great; he's the best long-duration guy in the corps, and his insight would certainly point those who will be going to the Moon and Mars in the right direction.
I realized yesterday another of his many distinctions as an astronaut--When the first scientist-astronauts were selected over 40 years ago, they arguably took a back seat to the pilot astronauts, with only one scientist-astronaut, Harrison Schmitt, flying in the Apollo program. With the Shuttle program, scientist-astronauts became mission specialists, and while they outnumbered pilot astronauts in the number flying, the mission commander was always the guy that could fly the Shuttle home. That changed last year, when Mike Foale became NASA's first mission specialist ever to command a spaceflight.
22 September 04
+ 0 - 0 | § ¶Today In History
(Plagiarized directly from
collectSPACE
, without adding anything or even trying to reword it. Sorry, Robert [Hey, you can't mess with greatness, right?])
1973: Alan Bean and Owen Garriott spacewalk to collect film and material samples outside Skylab.
+ 0 - 0 | § ¶Politics Of The Future
Thought I'd share
this contest from Cosmic Log
, in which you write a science-fiction story set in the future based on how life will be better if your candidate wins the election. (Jordan should
so
do this; I'd love to read what he came up with.)
+ 0 - 0 | § ¶The Battle Continues
Space Politics has a brief commentary on the
current status of the deliberations over NASA's FY05 budget
.
+ 0 - 0 | § ¶Expedition 10 Update
The launch of
Expedition 10 has been rescheduled for October 11
, 2 days later than originally planned due to repairs to a glitch in the spacecraft's docking system.
In other Russian space news, Rosaviakosmos has agreed to launch
the first South Korean cosmonaut
in 2007.
+ 0 - 0 | § ¶Continuing Mission

The
Mars rovers are back on duty
after a brief vacation, and have been approved for 6 more months of funding (assuming they continue to function).
21 September 04
+ 0 - 0 | § ¶Picture Of The Day

A piece of Space Shuttle Columbia, now identified as being Window No. 8 was recently found in Angelina County, Texas. NASA image courtesy Spaceref.
+ 0 - 0 | § ¶Wow
Would you have believed this 15 years ago?
A Russian airplane, "loaded with video, optical panoramic and framing cameras for daylight photography, infra-red line scanners for a day/night capability, and synthetic aperture radar for all-day/all-night and all-weather capability," will be performing observations of U.S. territory.
Under the Open Skies Treaty, the flyover is the second Russian Observation Mission in the United States. ...
The Russian team will negotiate a mission route of up to 2,980 miles. The Treaty allows Russia, as the observing party, to image any point on the territory of the U.S. along the agreed flight plan. ...
Last June, Russia and Belarus conducted the first of their two observation missions over the United States.
+ 0 - 0 | § ¶The Dream Is Alive
Work has been announced on a private spacecraft which could carry passengers into orbit. Well, kinda.
Per Space.com:
SpaceDev is designing a piloted sub-orbital spacecraft that could eventually be scaled up for orbital flights. ... Dream Chaser, as the vehicle is known, could make its maiden flight by 2008 if it is fully funded.
SpaceDev is probably best known by ATW readers for developing the hybrid rocket engine for SpaceShipOne.
+ 0 - 0 | § ¶By JIMO

The Jovian moons are another step closer with the
selection of a contractor for the design of the Jupiter Icy Moons Orbiter
mission. Northrop Grumman was given a contract for co-designing the spacecraft, currently scheduled for launch, I believe around 2015. It's so frustrating for me to read about the stuff going on now on this spacecraft, only to realize we won't get any information from it for another 20 years. I found this mission extremely exciting, in case I haven't mentioned that yet.
+ 0 - 0 | § ¶More Martian Hints

Recent analyses of data from ESA's Mars Express probe show
an overlap in concentrations of water vapor and methane in the atmosphere of the Red Planet
, which is a rather interesting bit of news. Currently, there are two leading theories as to what could be responsible for the presence of methane in the Martian atmosphere--that is a byproduct of volcanic activity, or is created by life on the planet. Given methane's degradation rate, it would have to have been produced relatively recently, and we haven't monitored any volcanic activity on the planet that would be responsible (though that doesn't mean it didn't happen and we just didn't see it).
Adding water vapor to the equation makes things more interesting. Our understanding of life leads us to believe that lifeforms on Mars (particularly those creating methane gas) would need water to live. If there is a high degree of commonality between areas where methane is being produced and areas were water appears to be present--well, you get the point.
20 September 04
+ 0 - 0 | § ¶Gift Idea

Been trying to come up with something to get me for Christmas?
This would do nicely
(though it'd be cooler if it worked).
+ 0 - 0 | § ¶A Breath Of Fresh Air
The
air-maintenance situation on ISS is under control
for the moment, after the failed current unit was replaced by a unit cobbled together from an old unit and some spare parts, but, according to this Oberg report, the Station is only one failure away from having a severe problem with its oxygen supply.
+ 0 - 0 | § ¶Expedition 10 Update
So it appears now that the
launch of Expedition 10 will be delayed, with October 11 and 13 be considered as the new launch date, slipped from the 9th.



17 September 04
+ 0 - 0 | § ¶Science!
OK, here's an idea for a
futuristic propulsion system
that I don't believe I've seen even in science-fiction novels:
The traveling-wave thermoacoustic electric generator has the potential to power space probes to the furthest reaches of the Universe.
Yep, that's thermoacoustic. Propulsion from electricty from sound from heat.
+ 0 - 0 | § ¶RTF Update
Per Space.com:
NASA is making progress in its return to flight efforts, despite suffering setbacks from a recent rash of hurricanes that have pummeled the nation's space coast, according to the task force overseeing the agency's work.
Recent events, however, certainly will make it harder to meet the tight schedule necessary for a mid-March RTF.
+ 0 - 0 | § ¶Longer March
Some kinda interesting news:
China is planning to build a new heavy-lift launch vehicle
. The article states that the rocket will "serve as the nation's vehicle to explore the Moon," but I have to imagine that they're referring to China's planned lunar probe missions, not the rumor-and-hype human mission people keep talking about.
On the positive side, the rocket, with the ability to carry 14 tons to Geosynchronous Transfer Orbit, would be only slightly less powerful than Boeing's new Delta IV Heavy launch vehicle, which can heave about 15 tons to GTO, which would make it among the most powerful rockets in the world ever. (The Delta IV Heavy is reportedly "
the most powerful evolved expendable launch vehicle ever built other than the Saturn V
.")
While both of these were designed primarily for satellite and space probe launches, obviously both, if man-rated, could have substantial applications for human spaceflight.
On the other hand, though, it's important to note that neither of these rockets comes close to the greatest launch vehicle of all time--in fact, both the planned Chinese rocket and the D4H put together still don't touch the power of the Saturn V, which could put over
50
tons in GTO.
This is why the discussion of the need for a true heavy launch vehicle is such an important one when it comes to planning a return to the Moon. For all the new developmens in spaceflight over the last 30 years, no one has the raw power that the Saturn V provided. (The Shuttle generates somewhere around the same amount of thrust at launch, but is so much heavier that its payload capacity is much less (and its GTO capability is exactly 0). That thrust could be tapped as the basis for a "heavier" launch vehicle such as the proposed
Shuttle C
.)
+ 0 - 0 | § ¶Weathering The Storm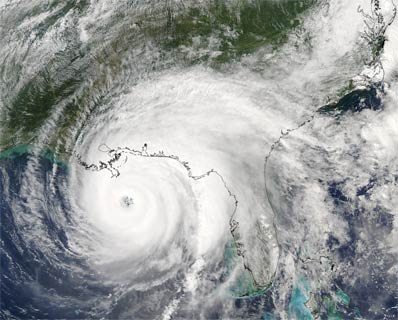 Per Spaceflight Now:
NASA's Stennis Space Center in Mississippi and the Michoud Assembly Facility in New Orleans were west of the worst of the storm, and initial reports indicate there is little or no damage to those facilities. NASA's Marshall Space Flight Center in Huntsville, Ala., closed early Thursday, and sent employees home as Ivan moved inland with high winds and rain.
Also:
Kennedy Space Center's nearly 14,000 employees returned to work this week, following an 11-day closure of the Center for Hurricane Frances. During the closure, the Damage Assessment and Recovery Team (DART) worked on-site to determine the extent of damage from the storm, which brought sustained winds greater than 70 mph and gusts as high as 94 mph.
+ 0 - 0 | § ¶Genesis Update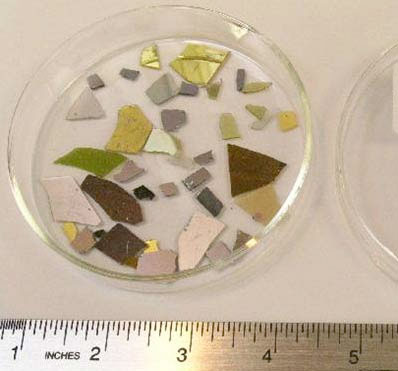 Per Spaceflight Now:
The team continues its meticulous work and believes that a significant repository of solar wind materials may have survived that will keep the science community busy for some time.
16 September 04
+ 0 - 0 | § ¶Fallen Spacecraft
Per the Longview News-Journal:
A large piece of space shuttle Columbia found recently is a part of the crew compartment, possibly including the escape hatch, a NASA official said Wednesday.
+ 0 - 0 | § ¶DARPA Space
So, apparently, the federal agency that is
taking over the X-37 project is DARPA
. Not sure what its interest is. NASA will still remain involved.
I'm also curious as to whether NASA's decreased role in X-37 is an indicator that the agency has completely decided to go with a capsule-based design for CEV, rather than a design more like Shuttle, as was initially considered for OSP.
+ 0 - 0 | § ¶This Week At NE
This week at
NASAexplores
, I've got a story about the stresses fuel tanks undergo during a space launch, and Maggie's got an article on Lasik, which it turns out is a NASA spinoff (which makes it kinda ironic that having the procedure prevents you from making a spaceflight).
15 September 04
+ 0 - 0 | § ¶Today In History
On this date 36 years ago, the Soviet Union launched Zond 5, an unmanned spacecraft which became the first to fly around the Moon and then return to Earth's surface.
+ 0 - 0 | § ¶Ballooning Expectations
With only 2 weeks left before the final hurrah of the X Prize competition begins in earnest,
the da Vinci Project is a step closer to launch
, after a successful test of the balloon which will carry its spacecraft aloft.
+ 0 - 0 | § ¶Russian Slowly To Space
Despite their best solicitations,
Rosaviakosmos has received no offers of foreign funding for the Klipper
next-generation spacecraft with which they hope to replace the Soyuz. Hint, hint.
+ 0 - 0 | § ¶Spending Three Grand, John-Byrne-style
Have you ever wanted to fly around like Superman? (And since you're reading this blog, don't bother trying to deny it.) Zero Gravity Corp. has started
booking weightless parabola flights for $2,950
. Zero-G was founded by X Prize CEO Peter Diamandis and astronaut Byron Lichtenberg.
Or, skip the story, and
book your flight here
.
+ 0 - 0 | § ¶NASA And The Hurricanes

Per Spaceflight Now:
The U.S. Congress is being asked to budget $126 million to repair hurricane damage at Kennedy Space Center in the wake of Frances' blast from Labor Day weekend.
Also:
Weather forecasts indicate some NASA centers and facilities could feel Ivan's terrible wrath.
Preparations are under way to secure important space flight hardware. NASA's Stennis Space Center (SSC), Miss., and the Michoud Assembly Facility, New Orleans, are getting ready to ride out the storm. Other NASA installations, from Johnson Space Center, Houston, to Kennedy Space Center, Fla., are keeping a wary eye on Ivan's track.
14 September 04
+ 0 - 0 | § ¶Today In History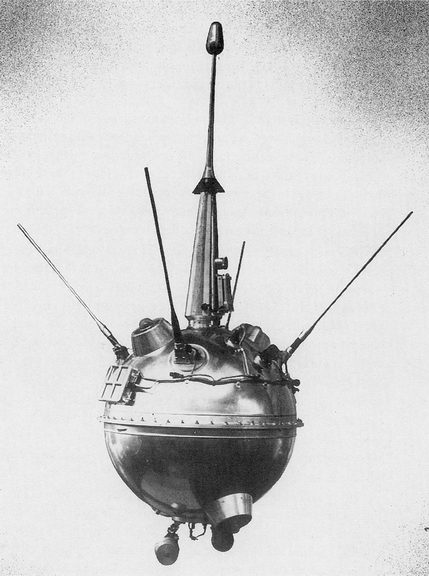 On this date 45 years ago, the Soviet Union became the first nation to reach the surface of the Moon when the Luna 2 probe impacted on the surface, scattering Soviet memoribila, just under 10 years before the first manned landing.
+ 0 - 0 | § ¶You Down With OSP?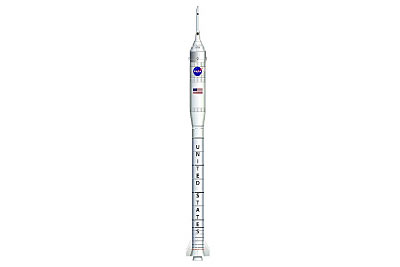 The Space Review has an interesting article about how
development of the Crew Exploration Vehicle has flowed from the planning work done for the Orbital Space Plane
, and focusing on the proposal (included in the Planetary Society study I recently linked) to adapt the Shuttle's Solid Rocket Booster for use as a launch vehicle for a capsule CEV.
+ 0 - 0 | § ¶The Countdown Continues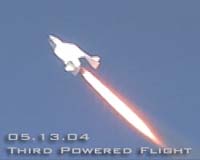 To make the X Prize race a little more interesting, Scaled will be using
a modified version of its hybrid rocket engine in the SpaceShipOne prize flights
, which it appears may be the first time the modified engine will be flown. Given the troubleshooting they've had to do after previous test flights, one might think they would just stick with what works, but I guess these modifications give them a little more leeway in reaching the target altitude.
Addendum:
On a related note, SpaceShipOne's "carrier"
WhiteKnight will be used for drop tests of NASA's X-37
technology demonstrator. The interesting bit is that "management of the project has been taken over by an agency (a NASA spokesman) said he could not identify."
13 September 04
+ 0 - 0 | § ¶Sheesh
Per MosNews.com:
Two Moscow policemen beat up a Russian cosmonaut who had a "Chechen" surname, the Moskovsky Komsomolets daily reported on Friday. ...
After the law enforcers saw the colonel's name, which suggests he is of Caucasian Muslim descent, they started beating him up. The beating stopped only after passers-by called the police station. Before leaving the attackers said: "Get away from here, you black, and tell your kinsmen we will strangle all of you, whatever the cost."
Colonel Magomed Tolboyev is a distinguished test pilot; he bears the country's top honorary title Hero of Russia. During his space career Tolboyev was commander of Russia's first and only space shuttle — the Buran.
On a completely unrelated note, I was looking up Tolboyev to determine whether the article is correct in calling him a cosmonaut (technically, it's not--he never flew in space, and in Russia you're not considered a cosmonaut until you've flown), and found this article that
might be of interest to Kirk
.
Addendum:
collectSPACE guru Robert Pearlman found
this article saying no disciplinary actions will be taken against the officers involved.
The Moscow police officials have announced that policemen of Moscow's eastern police district did not exceed their powers while "dealing" with retired air force colonel, Hero of Russia Magomed Tolboyev, the Moscow police's public relations department said on Sunday. ...
"The materials gathered suggest that allegations concerning Tolboyev's brutal treatment were untrue. The policemen did not possess weapons, and Tolboyev was neither beaten up, nor kicked," the Public Relations Department said in a release. ...
"It was established that the policemen had stopped Tolboyev for a passport check with due reason, while the use of force within the limits admissible in such situations, was provoked by Tolboyev's refusal to obey, and by his aggressive conduct," it said.
+ 0 - 0 | § ¶Yesterday In History
Forty-two years ago yesterday,
Kennedy gave his Rice University speech
:
So it is not surprising that some would have us stay where we are a little longer to rest, to wait. But this city of Houston, this State of Texas, this country of the United States was not built by those who waited and rested and wished to look behind them. This country was conquered by those who moved forward--and so will space. ...

If this capsule history of our progress teaches us anything, it is that man, in his quest for knowledge and progress, is determined and cannot be deterred. The exploration of space will go ahead, whether we join in it or not, and it is one of the great adventures of all time, and no nation which expects to be the leader of other nations can expect to stay behind in the race for space.
Those who came before us made certain that this country rode the first waves of the industrial revolutions, the first waves of modern invention, and the first wave of nuclear power, and this generation does not intend to founder in the backwash of the coming age of space. We mean to be a part of it--we mean to lead it. For the eyes of the world now look into space, to the moon and to the planets beyond, and we have vowed that we shall not see it governed by a hostile flag of conquest, but by a banner of freedom and peace. We have vowed that we shall not see space filled with weapons of mass destruction, but with instruments of knowledge and understanding. ...

We set sail on this new sea because there is new knowledge to be gained, and new rights to be won, and they must be won and used for the progress of all people. ...

We choose to go to the moon. We choose to go to the moon in this decade and do the other things, not because they are easy, but because they are hard, because that goal will serve to organize and measure the best of our energies and skills, because that challenge is one that we are willing to accept, one we are unwilling to postpone, and one which we intend to win, and the others, too. ...

Many years ago the great British explorer George Mallory, who was to die on Mount Everest, was asked why did he want to climb it. He said, "Because it is there."
Well, space is there, and we're going to climb it, and the moon and the planets are there, and new hopes for knowledge and peace are there. And, therefore, as we set sail we ask God's blessing on the most hazardous and dangerous and greatest adventure on which man has ever embarked.
Also, on this date 43 years ago, the Mercury-Atlas 4 unmanned launch carried a Mercury spacecraft into Earth orbit for the first time.
+ 0 - 0 | § ¶From The X Files
Mach 10 may have to wait. The captive-carry test
flight of the X-43A Hyper-X has been delayed
. Since the flight, which was originally scheduled for last Tuesday has could be postponed for "several days or weeks," it sounds like it could also postpone the final X-43A flight, which was originally scheduled for next month and which would aim for Mach 10 (though that's just speculation on my part--haven't seen it officially anywhere yet).
10 September 04
+ 0 - 0 | § ¶Genesis Update
Per Space.com:
The good news is that they believe they see large pieces of the thin arrays inside the breached specimen canister. ...
"Today we hope to get into the sample return canister and get some sort of inventory of the contents and some projection of the science," Lindstrom told reporters ...
The scientific community is optimistic, Lindstrom added, because the solar wind particles – ions – are embedded within the collectors. ...
"We haven't actually been inside there to measure, but we believe we can see full 10-centimeter hexagons," Lindstrom told reporters. ...
"We don't really know enough now to say more," Lindstrom said. "I think we'll have a pretty good idea in the next couple of days."
+ 0 - 0 | § ¶The Air Up There
The bad news:
The Russian Elektron system which generates oxygen for the International Space Station has broken down. Again.
The good news:
Not only is Exp. 9 commander Gennady Padalka confident he can get the unit working again, but he has also cobbled together a back-up unit from spare parts on ISS.
As I've said before, this, in my opinion, is one of the most important ways that the ISS serves as a testbed for planning missions to Mars. If equipment breaks down on the way to Mars, you're not going to be able to send a replacement up from Earth. If the equipment that breaks down is something like the crew's source of oxygen, then that's going to be a real problem.
Problems with equipment are going to be inevitable. If the plan is to conduct a series of multi-year missions to a planet tens of millions of miles away and have nothing go wrong, we're going to be disappointed. The only hope of making such a mission successful is to have the capability to deal with problems in-flight as they develop, with no resources besides those on the spacecraft.
Repairing the Elektron unit is an important example of that. Creating a
spare
Elektron unit is an even bigger step, since Elektron units take time to produce, and, to the best of my knowledge, there are currently no back-up units on Earth.
+ 0 - 0 | § ¶Picture Of The Day
Per
Space.com
:
A group of European-led astronomers has made a photograph of what appears to be a planet orbiting another star. If so, it would be the first confirmed picture of a world beyond our solar system.
09 September 04
+ 0 - 0 | § ¶This Week At NE
This week at
NASAexplores
, I've got an article about lessons learned from the lunar exploration of the Apollo program, Maggie's got a story about how NASA makes safety a top priority, and we've got a story about blood.
+ 0 - 0 | § ¶One Small Step
A bit of good news for the Vision
+ 0 - 0 | § ¶Various And Sundry
A couple of thoughts from
this item on the Space Politics blog
:
Space Politics, which is usually pretty dead-on, joined several media outlets in missing the boat on cost figures Sean O'Keefe presented yesterday. Several reports have said that O'Keefe said RTF costs could reach $2.2 billion, over double the previous figures. In actuality, the larger figure is not for Return To Flight, but for ongoing improvements to the Shuttle fleet and program over the next several years, up to and following RTF.
Also, bad news for several ATW readers who are mistaken about their true priorities:
Sen. Trent Lott (R-MS) didn't sound very enthusiastic about the Vision for Space Exploration. "The idea of just going to Mars doesn't frankly excite a lot of people in my state," he said, according to Reuters. "They don't care whether there's water up there or not; they'd rather have asphalt on the roads."
+ 0 - 0 | § ¶Cupola Concerns
Not that long ago, my reaction to the news that
ESA has shipped the ISS Cupola to KSC
to await launch would have been that it was pretty cool, but, now, in the wake of Frances and the face of Ivan, my first thought was that I hope it's not going to arrive there anytime soon.
I'll be the first to admit I'm not the best in the world at following weather in other parts of the world (or, for that matter, outside my own house), but I'm getting to the point where the
situation at KSC
is really kinda starting to concern me. Ivan could have the ability to completely reshape the future of international spaceflight in a single day.
+ 0 - 0 | § ¶Genesis Post-Mortem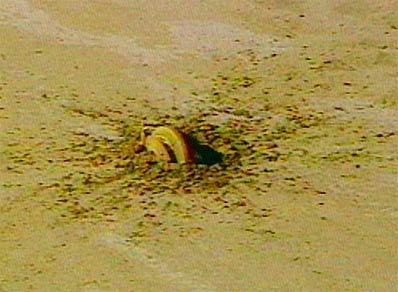 Spaceflight Now has a
"post-impact" story on the Genesis spacecraft
, which quotes the Genesis program director as saying the team hopes some of the science can be salvaged, though, obviously, the situation is pretty far from optimal.
Also, according to Space.com,
the leading suspect for the crash is a battery failure
.
Editorializing a bit here, but I think it's definitely worth noting that Genesis is just another example of why the
Faster, Better, Cheaper approach of Dan Goldin's NASA was a false economy
. The problem with FBC is that you can have any two of the three, but not all three. Genesis was indeed faster and cheaper, but it'd be tough to argue that the metal disk half-buried in the Utah dirt yesterday was really
better
. Not only would a more expensive spacecraft possibly have been more robust and thus more likely to function properly, but it could have been equiped with additional experiments, so that the loss of one does not stand to invalidate the entire mission.
This year has brought several examples of the benefits of space exploration done right--Cassini is doing a great job at Saturn, and the Mars Exploration Rovers have blown everyone's expectations completely out of the water they found on Mars. None of these may have been faster or cheaper, but they were sure a whole lot better. Somewhere on Mars, England's faster and cheaper Beagle 2 lander probably looks a lot like Genesis did yesterday.
Investing properly in space exploration brings results like Cassini and the MERs. Faster, Better, Cheaper brings results like Genesis and the Mars Climate Orbiter which made it all the way to Mars before being lost in the infamous metric system debacle.
In addition to being an important lesson, it adds an additional level of frustration to yesterday's loss. At a time when the agency needs it least, NASA will suffer criticism for the failure, but it's a failure the agency has moved past, a lesson we've already learned. What happened yesterday has nothing to do with the NASA of today, it's a legacy of past leadership. That's the problem you run into with projects that take years to pay off.
08 September 04
+ 0 - 0 | § ¶The Genesis Effect
Due to drogue chute failure,
the Genesis sample return capsule crashed
into the ground.
Helicopters poised for midair capture could only watch helplessly as the canister streaked into the atmosphere.
The capsule survived reentry, and from the exterior looks relatively intact, but no word yet on whether any of the delicate cargo could have survived the hard landing.
+ 0 - 0 | § ¶KSC Damage Update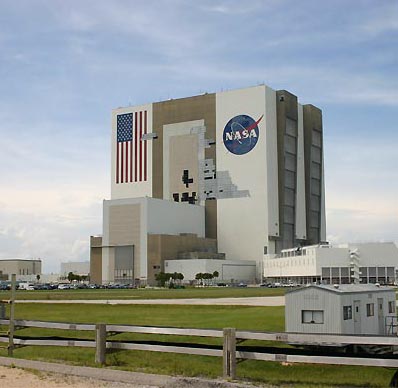 Spaceflight Now has more on
the damage caused at Kennedy Space Center
by Hurricane Frances:
"That concerns us a lot," he said. "The facilities engineering people today don't think that between now and the possible arrival of (Hurricane) Ivan as early as next Saturday there is anything they can do to plug those holes. ...
The sides of the building were not the only sites of damage. A 30-member team inspecting the roof of the cavernous structure had to beat a hasty retreat when they discovered "it was very insecure," Kennedy said. ...
"I'm not going to estimate when we might return to flight," he said. "It's very much to be determined, the impact that the facility damage will have on our ability to return to flight. We'll be working with the shuttle program people over the coming weeks to help assess that."
On a related note:
Three unmanned rockets standing on launch pads at Cape Canaveral Air Force Station escaped serious damage during Hurricane Frances, the 45th Space Wing's commander said Tuesday. ...
At pad 17B, a Boeing Delta 2 vehicle had been undergoing preparations for liftoff September 22 carrying a replacement satellite for the U.S. military's Navstar Global Positioning System constellation. Boeing's inaugural Delta 4-Heavy rocket was set for a demonstration test launch October 20 from Complex 37B. And a Lockheed Martin-built Titan 4B rocket on Complex 40 was scheduled to haul a classified National Reconnaissance Office cargo into orbit next February.
07 September 04
+ 0 - 0 | § ¶Genesis Ends
In a show promising to be so exciting that NASA had to hire Hollywood stunt pilots to help pull it off,
the Genesis solar sample return capsule will enter Earth's atmosphere tomorrow
at 10:55 a.m. CDT. Helicopter teams will attempt to grab the sample canister in midair as it parachutes to the surface.
+ 0 - 0 | § ¶Hyper Time
The final
X-43A Hyper-X scramjet is scheduled for a captive carry test flight today
in preparation for an effort next month to reach Mach 10.
+ 0 - 0 | § ¶Weathering The Storm
Per Spaceflight Now:
Hurricane Frances battered the Kennedy Space Center with sustained winds of more than 70 mph, ripping off an estimated 40,000 square feet of siding on the cavernous Vehicle Assembly Building and partially destroying the roof of a critical heat shield tile facility needed for NASA's shuttle return to flight effort.
Recovering from the impact of Frances could delay NASA's first post-Columbia shuttle flight, now targeted for March, officials said today. But center Director Jim Kennedy said the damage, while the worst in spaceport history, was not a disaster "by any stretch of the imagination" and that it was too soon to say what impact it might have on the agency's return-to-flight efforts. ...
More important than the shuttle's eventual launch date is the potential impact of Hurricane Ivan, a powerful storm that some computer models show tracking toward Florida's east coast. Given the damage caused by the category 1 winds of Hurricane Frances, Kennedy sees Ivan as a potential "doomsday scenario" that could affect the future of America's manned space program.
03 September 04
+ 0 - 0 | § ¶Today In History
In an event which would much later be relevant in the life of Benjamin Sisko, on this date 28 years ago, Viking 2 landed at Utopia Planitia, beginning 7 months of studies on the Martian surface.
+ 0 - 0 | § ¶Terrestrial Aliens
Myself, I just don't buy into the panspermia hypothesis, for a couple of reasons. One, it makes something overly complicated--the conditions necessary for Earth to support life--even more complicated. Occam's razor just slices that theory to pieces. Two, given the difficulty we're having trying to find evidence of life in our solar system, it just seems unlikely to me that life would have come from one of our neighboring worlds (particularly instead of the one place in the solar system best suited to support it).
That said,
this research is rather interesting
. That would also be a cool job.
+ 0 - 0 | § ¶EVA Today
The hatch will open for
Expedition 9's final space walk
today at 11:50 CDT.
02 September 04
+ 0 - 0 | § ¶This Week At NE
Normally when I post this, I list my article first, but Maggie's story at
NASAexplores
this week is actually pretty cool (I can at least claim credit for the idea, though): a piece about Orbiter maintenance.
My story this week is about NASA research on aircraft computers that learn how to better fly planes.
+ 0 - 0 | § ¶Today In History
On this date in 1970, NASA cancelled Apollo missions 15 and 19.
Arguably, these cuts made Skylab possible. During the Apollo 11 mission, it was announced that Skylab would be a fully assembled workshop launched on a Saturn V, rather than modified in orbit from a spent Saturn IB stage. At the time, all of the Saturn Vs that had been constructed were already spoken for by Apollo lunar missions, and the plan was for more of the big boosters to be built for Skylab. Months later, however, the Saturn line was shut down, leaving America's first space station without a way to orbit. The cancellation of Apollo missions, however, freed up the boosters necessary for the program.
+ 0 - 0 | § ¶Caller ID
Per
New Scientist
:
This radio signal, now seen on three separate occasions, is an enigma. ...
But it also happens to be the best candidate yet for a contact by intelligent aliens in the nearly six-year history of the SETI@home project ...
Named SHGb02+14a, the signal has a frequency of about 1420 megahertz. This happens to be one of the main frequencies at which hydrogen, the most common element in the universe, readily absorbs and emits energy.
Some astronomers have argued that extraterrestrials trying to advertise their presence would be likely to transmit at this frequency, and SETI researchers conventionally scan this part of the radio spectrum.
Addendum:
More on the subject from Cosmic Log:
"If she got the idea that that was a promising signal, she got the wrong impression," he said.
+ 0 - 0 | § ¶Against The Storm
Per
DiscoveryChannel.com
:
With the three remaining space shuttles, the dozens of unique space station components and modules and billions of dollars worth of launch facilities and assembly hangars, the Kennedy Space Center sits uncomfortably close to the predicted path for Hurricane Frances, a Category Four storm barreling toward Florida's east coast.
The space center has never experienced a direct hit by a hurricane, though there have been a few close calls. The outlook for another miss is looking bleak. ...
Among the most vulnerable structures is the roof on the Orbiter Processing Facility, which is housing NASA's three orbiters — Atlantis, Discovery and Endeavour. The building was constructed during the Apollo era and has a roof designed to withstand 105 mph winds, Diller said. ...
Many of the structures at KSC are unique, such as the launch pad Rotating Service Structure, which wraps around a shuttle at the pad to protect the orbiter and provide access into the vehicle. The launch pads are designed to withstand 125 mph winds.
"If there were serious damage to one or two of the orbiters or the facilities needed to process and launch the orbiters, I think it would raise a very large question about the continuation of the shuttle program," Logsdon said.
+ 0 - 0 | § ¶Vision Becomes Real
NASA has awarded
11 contracts for companies to begin developing concepts for the Crew Exploration Vehicle and for human lunar exploration
. The initial concepts are to be developed over a 6-month period, and the agency has a 6-month options for further development of any of the concepts at the end up that period. In other words, we may be getting some idea of what the next crewed spacecraft will look like before Return to Flight.
+ 0 - 0 | § ¶RAT Update
I posted something a while back about a while back about problems with the rock abrasion tool on the Opportunity Mars rover, noting that on a human mission, a tool problem like the one the rover was experiencing could be worked out in about 2 minutes. Instead,
it took 2 weeks to get the rover's tool working again
. Imagine what a team of astronauts would have been able to accomplish working on the surface of Mars for 2 weeks. (That's far more time, for example, than humans worked on the surface of the Moon during Apollo.)
01 September 04
+ 0 - 0 | § ¶Today In History

On this date 25 years ago, Pioneer 11 flew within 13,000 miles of Saturn, taking the first close-up pictures of the planet. Image courtesy NASA.
+ 0 - 0 | § ¶Political Whoops
Apparently I should stick to not blogging politics. It turns out the GOP platform information I blogged yesterday: (
In addition, the Republican Party will remain committed to America's leadership in space research and exploration. We will ensure that this Nation can expand our knowledge of the universe, and with the support of the American people, continue the exploration of Mars and the rest of the solar system. We consider space travel and space science a national priority with virtually unlimited benefits, in areas ranging from medicine to micro-machinery, for those on earth.
) is actually from, get this,
2000
. The
2004 version is much less wordy
:
The President's support for NASA and vision for space exploration will also enhance scientific development and technological breakthroughs.
Still better than the Democrat's silence, though.
+ 0 - 0 | § ¶More Betting Advice
If, on the other hand, you have the opportunity to participate in an office pool betting against human spaceflight, you might want to think twice. UPI has an interesting article about
the insurance company that will end up paying for much of the X Prize
because it essentially made the bet that no one would be able to win the prize before the deadline at the end of the year.
+ 0 - 0 | § ¶All These Worlds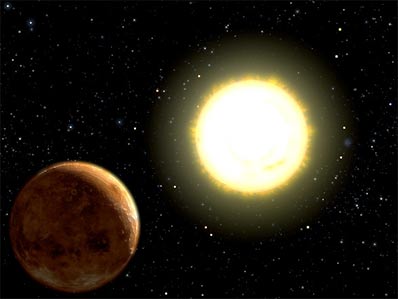 Well, if you ever find yourself participating in a betting pool about announcements concerning the discovery of a new class of planets, you can put your money down based on ATW with a high degree of confidence. My predictions about
yesterday's announcement of the discovery of a new class of planets
turned out to be pretty accurate: Nothing really new to readers of this blog, and concerning planets that are Earth-like only in the broadest sense.